Los Angeles Property Management Group has been providing professional property management in Los Angeles and the San Fernando Valley For Over 20 Years!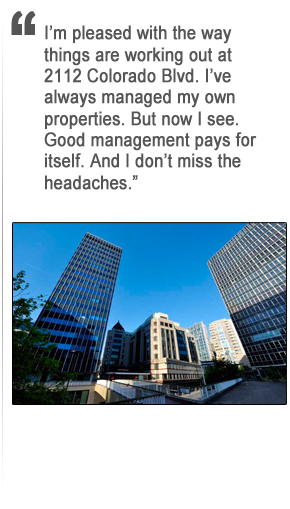 Whether you are looking for help with apartment management, retail, warehouse, or office property management, Los Angeles Property Management Group brings the same level of passion and dedication in delivering impeccable service and maximum profits to you, each and every month.
We have always been guided by a simple philosophy: Deliver the most profit to our clients with service second to none.
In a survey of property owners conducted in 2012, 96% of our owners chose to respond that, "they couldn't imagine a higher level of satisfaction and profit from their property management team".
As we enter into our third decade of service providing property management in Los Angeles and the San Fernando Valley, we would like to extend the following invitation:

When you call, one of our friendly staff will answer. If you wish to speak to the founder of the company, he'll take your call immediately, or return it within the hour.
If you would like to meet with us, we'll have one of our representatives at your property the next day to give you a firm, no obligation quote, and share what the smartest, most experienced owners are doing with similar properties to gain the highest profits every month.
If you're working with a management company now, and are considering a change, we'll guarantee that our transition team will deliver a seamless switch, with no disruption to existing services. We provide the highest caliber of service to each and every one of our clients!

OUR PROMISE TO YOU: If after working with us for two months you haven't found Los Angeles Property Management Group to be the best property management company you've ever worked with, we'll refund all of your management fees.
We're confident that you will agree with what we've heard from many of our clients: "Excellent property management doesn't cost. It pays!"
Call Us Today! (323)255-9400